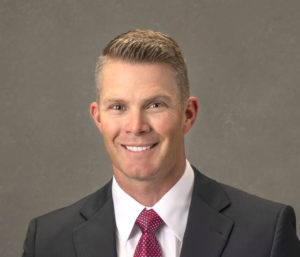 Nick is one of the founding partners of Landmark Risk Management & Insurance. Landmark Risk Management & Insurance is based in St. George, Utah was formed in 2008. They work with growing companies to protect their assets and increase their bottom lines through risk management process and procedures tailored to the uniqueness of each company they work with.
Nick and his partners saw the need for a different experience in the insurance industry. Landmark shifts the focus from insurance to the total cost of risk associated with each individual business and having a proactive risk management approach.
Nick's career in risk management started in the hospitality industry. For eleven years he worked as a risk and operations manager overseeing the operations and insurance needs of several hotel properties. He helped the properties he worked with to identify the total cost of risk and ensure adequate process and procedures were in place at each location to proactively mitigate against possible risks.
Since forming Landmark Risk Management & Insurance in 2008, Nick has worked with hundreds of clients and businesses to calculate their total cost of risk and helped to identify the uniqueness of each business. This has aided these growing companies to become best in class. Nick is a licensed risk consultant and specializes in commercial contractors and hospitality industries.
Nick graduated with a bachelor's degree in business administration with a minor in business management from Dixie State University. Nick sits on the Tourism Board for Washington County and helps identify & find events and opportunities that can benefit tourism growth in Washington County.
Nick speaks fluent Spanish. He was born and raised as a native of St. George, Utah. Where he loves to live and raise his family. He has the "Red Sand" between his toes.